The world's leading articles of Japanese make - all of which are our products
Not only Japan's large and representative enterprises such as Sony and Toyota, but also our small and medium-sized businesses are not exceptions in their high manufacturing levels and these innumerable manufactures support Japan's state of the art. There are many technologies not yet introduced in the world. We, as a small-scale and specialized trading company, will make the best of our functions and determined to spare no effort in introducing made-in-Japan products attractive and high in added value to the world markets.

We handle everything so far as it has anything to do with resistors. We initiated our business by handling resistors. We are now dealing with excellent supply sources inside and outside of Japan and first-rate buyers. With this network and our sufficient business experience, we can introduce superior products to our customers. Our advantage is that we can offer not only fixed resistors but also all the materials and equipment for manufacturing resistors. Our ample experience enables us to offer special and made-to-order resistors also. You are always welcome to send us your inquiries.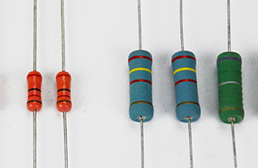 Main Handling Items
* Various fixed resistors (including semi-completed items)
* Raw materials (ceramic rods, alumina substrates, end caps, various kinds of paste, paint, lead wire, etc.)
* Manufacturing equipment (screen printing machine, substrate breaking machine, terminal electrode coating machine, measuring and sorting machine, high-speed testing and taping machine, etc.)
* Various kinds of testing equipment and jigs on special order

Even in the present age where the innovation is being accelerated in the field of digital technology, there is no end to the popularity with analog records and amplifiers using vacuum tubes among audiophiles of analog equipment seeking pure sound with two speakers. This means that analog sound is superior to digital sound in the reproduction of warmth and reality peculiar to music. We have stuck to our idea to reproduce "soft and clear rhythm" "to realize the sound field with real existence", so that we would be able to meet the expectation of audiophiles aspiring to the sound of high quality. We are sure we now can satisfy audiophiles with authentic ears.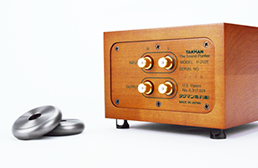 Brand Information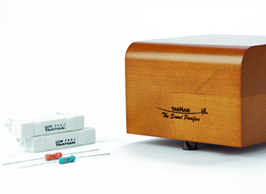 TAKMAN is a well-established manufacturer and has manufactured only electric resistors since the foundation in 1980. They developed the technology to eliminate harmful and incidental noises to the limit after a pursuit with R&D. The resistors manufactured by TAKMAN for audio equipment generate clear and vibrant sounds precisely. These resistors are well reputed not only in the designing of audio equipment but also in letting the detailed functions to display the fullest capability. These have been fascinating to audiophiles all over the world.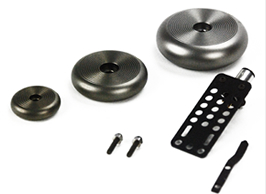 Vibration is the most harmful factor in audio equipment. The key to sound improvement depends on how vibration can be controlled. SEISIN's new material M2052 is twin crystal type alloy based on manganese and it functions very effectively to control vibration. Its high damping capability, excellent processing characteristics and durability have attracted the attention not only from audio field but also from every industry for its wide application. We hope you will enjoy the musical world of clear sound produced by M2052.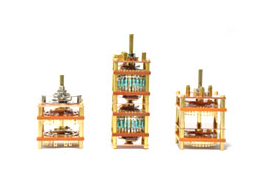 SEIDEN's rotary switches were originally developed for switching circuits in electric apparatus using very small current with emphasis placed on the stable operation and durability. These switches have enjoyed good reputations for a long time in the field of medical electronic apparatus, precision measuring instruments and etc.

Based on the stability and durability of the rotary switches, new items were developed; SEIDEN's rotary switches for audio equipment with the characteristics sought to acquire improved sound quality and manipulation. These switches are available with a large variety of specifications and your choice can be made from small rotary switches to multi-contact attenuators of the highest quality to satisfy your needs. The combination of these switches with TAKMAN's audio grade resistors will offer you unparalleled selection.